Reflections on The National Running Show 2020
By Mike James | 30th January 2020 | Event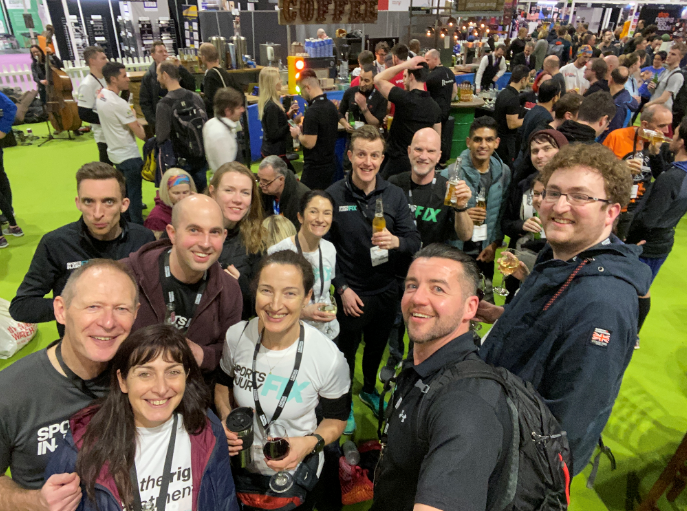 It's Wednesday morning and the Sports Injury Fix team are just about recovered from what was a fantastic weekend at the N.E.C in Birmingham.
The U.K.'s biggest running expo, The National Running Show was held on the 25-26 Jan 2020, and it continues to develop into a more spectacular event year on year.
More floor space, more exhibitors, and even more high-quality speakers spanning all the running genres from all around the globe descended on Birmingham to help the biggest audience yet have a special two days in what was all-out extravaganza of running.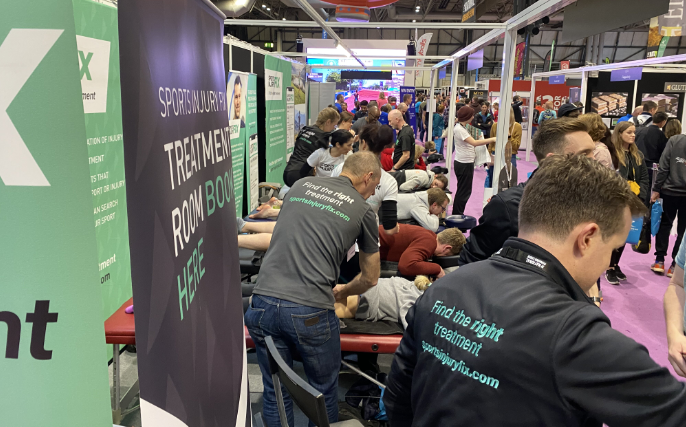 Sports Injury Fix returned to host "The Treatment Room", a 12m x 3m stand offering a large team of therapists including Physio's, Osteopath's, Sports Therapists, Exercise Therapists, Podiatrist's and Sports Massage Therapists who delivered bespoke assessment, advice and treatment to runners of all ages, abilities and backgrounds.
The National Running Show is such a special and unique environment. A real hot bed of excitement, passion and enthusiasm towards running. The organisers have managed perfectly to provide a platform and arena for people to celebrate all things running and we are privileged and honoured to have once again played a part in it.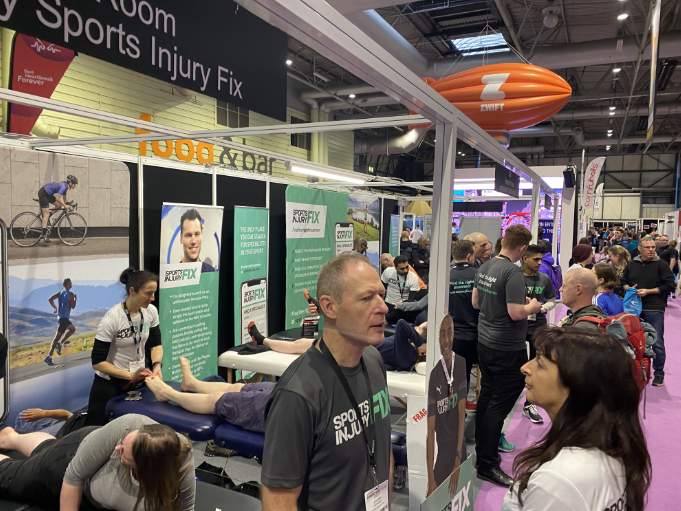 Take home messages from runners
As ever, the interactions with so many runners allowed us access to really learn about the issues surrounding runners and running injury. A massive thank you to all the runners and visitors who took the time to chat and spend time giving us their thoughts and feedback.
The main take home messages were:
1. Runners remain fearful to seek advice when carrying injuries for fear of being told to stop running. We certainly spent time stressing that Sports Injury Fix members are keen to keep you running unless absolutely required to stop for a period of time. Therapists who specialise in working with runners will normally try to modify running to tolerable levels the majority of the time.
2. Runners are reluctant to seek a second opinion for fear of offending their current therapist or being frowned upon by a new therapist. Please remember that it is your body, your injury, and your prerogative to have as many opinions and / or therapists as you wish until you are satisfied. No respectable therapist will take offence if you seek further opinion, in fact, a good therapist will refer you onto someone potentially more helpful if they cannot help you achieve your goals.
3. There is a large amount of confusion regarding the understanding and management of common running injuries. Although there are indeed many ways to skin the injury cat, there are best practise treatments and management strategies that most therapist should be applying.
4. Runners remain confused about which type of therapist they should see, and what is are the differences between the various professions – click here to find out more about the different specialisations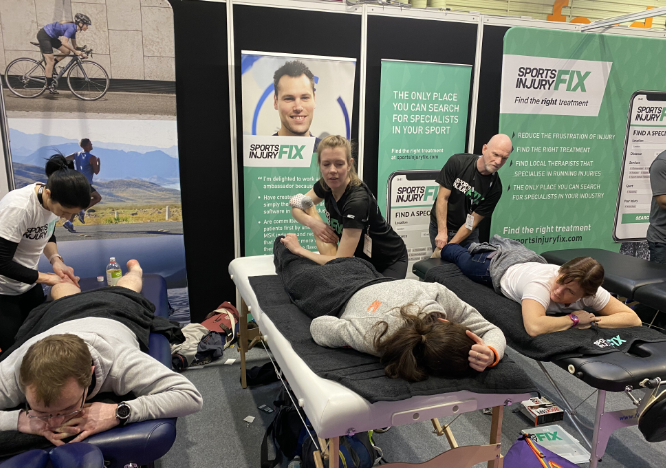 The value of teamwork
Without doubt our biggest reflection on the show was the confirmation in our strong belief that multidisciplinary teamwork from a range of professional backgrounds is truly the gold standard approach to providing the best advice and treatment to a runner or sports person. Being able to identify the best therapist or indeed, therapists who can work collaboratively to enable someone to return to or continue to perform the sport that they enjoy so much is truly the most rewarding part of our business.
Within the industry we are driving for this collaborative team approach in order to offer each person / patient / athlete the best possible care for them individually.
The National Running Show provides us a platform to see this in real time and we wish we could bottle this up and use it to reinforce the message that this really is the optimal way to be working.
Whether this is within a single physical location, or via a virtual network of colleagues matters less so in our opinion. However, having the support of others to reinforce and refer to is the vital factor.
Friends Old and New
The very busy nature of the show made visiting other stands and exhibitors difficult, although we were able to meet and mingle with many great businesses and people who we either have existing relationships with or hope to develop relationships with going forward. A special mention has to go to Cardiff Metropolitan University Podiatry School, RockTape UK, Runr, POW virtual Running, Up and Running UK, Women's Running, Ironman, Kinetic Rev, Luke Tyburski, Ian Griffiths, Saucony UK and many many more.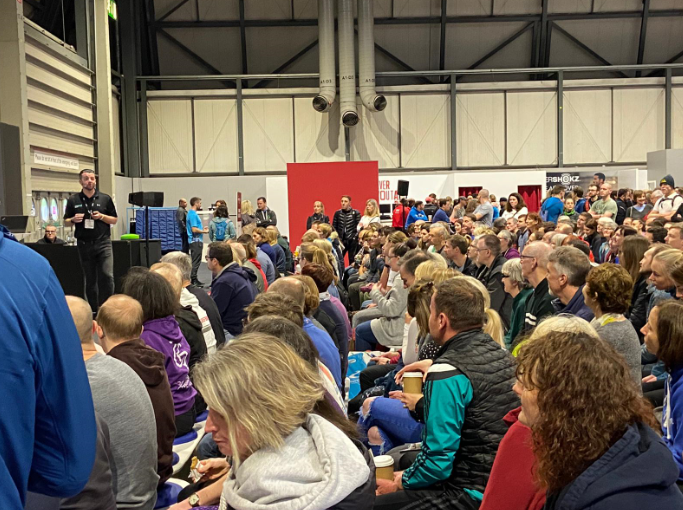 Passing on our knowledge and experience
One of the highlights for us this year was having the opportunity to provide advice on injury and performance to a large audience via the speaker's stage. Director Mike James delivered a talk on how recovery can unlock performance and potentially reduce injury risk.
Thanks to all who attended and came over to the stand afterwards to discuss the talk in further detail.
The biggest thank you must go out to our team of therapists, helpers, friends and family who worked tirelessly for two days to deliver our vision. You guys were superstars and we cannot wait to do it all over again next time!
Sharon Dooley, Ben Elliott, Fiona Higgs, Jai Mistry, Anna Mongan, Jon Tibke, Lawrence Dreyfuss, Dave James, Muhammad Tausif, Tim Veysey-Smith, Bob Allen, Chris Tiley and Bethan Timmins
To find your nearest running specialist therapist, visit Sports Injury Fix today.
Keep up to date on our run related blogs and much much more here.
More articles